Merry Christmas Eve Y'all!
I've had this post sitting around, ready to go for weeks, and just hadn't gotten around to posting it!
I might be a little last minute, much like all of my Christmas planning, shopping, and wrapping this year. So, if you are like me, these last minute decor ideas will be perfect for you, or best kept in mind for next year! :p
My boyfriend Alex, and I decorated our house together for the first time this year. We picked out our very first tree, my first EVER real tree, got some super cute stockings and Christmas decor, blasted the Christmas tunes, and got to work!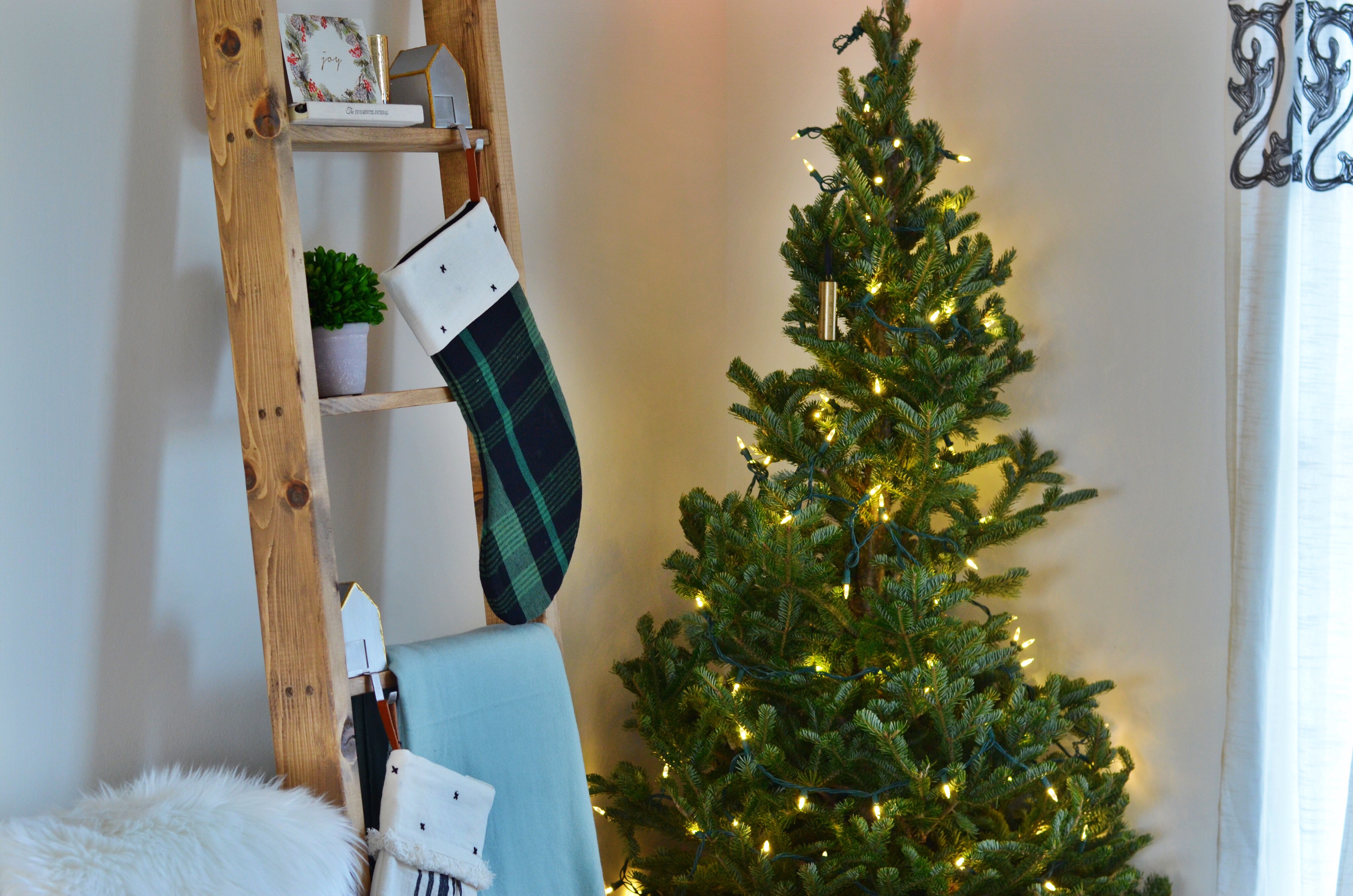 When we got home from tree hunting, we realized we had forgotten to pick up a tree stand while we were out so we had to get creative at the local hardware store – keep scrolling to see what we came up with!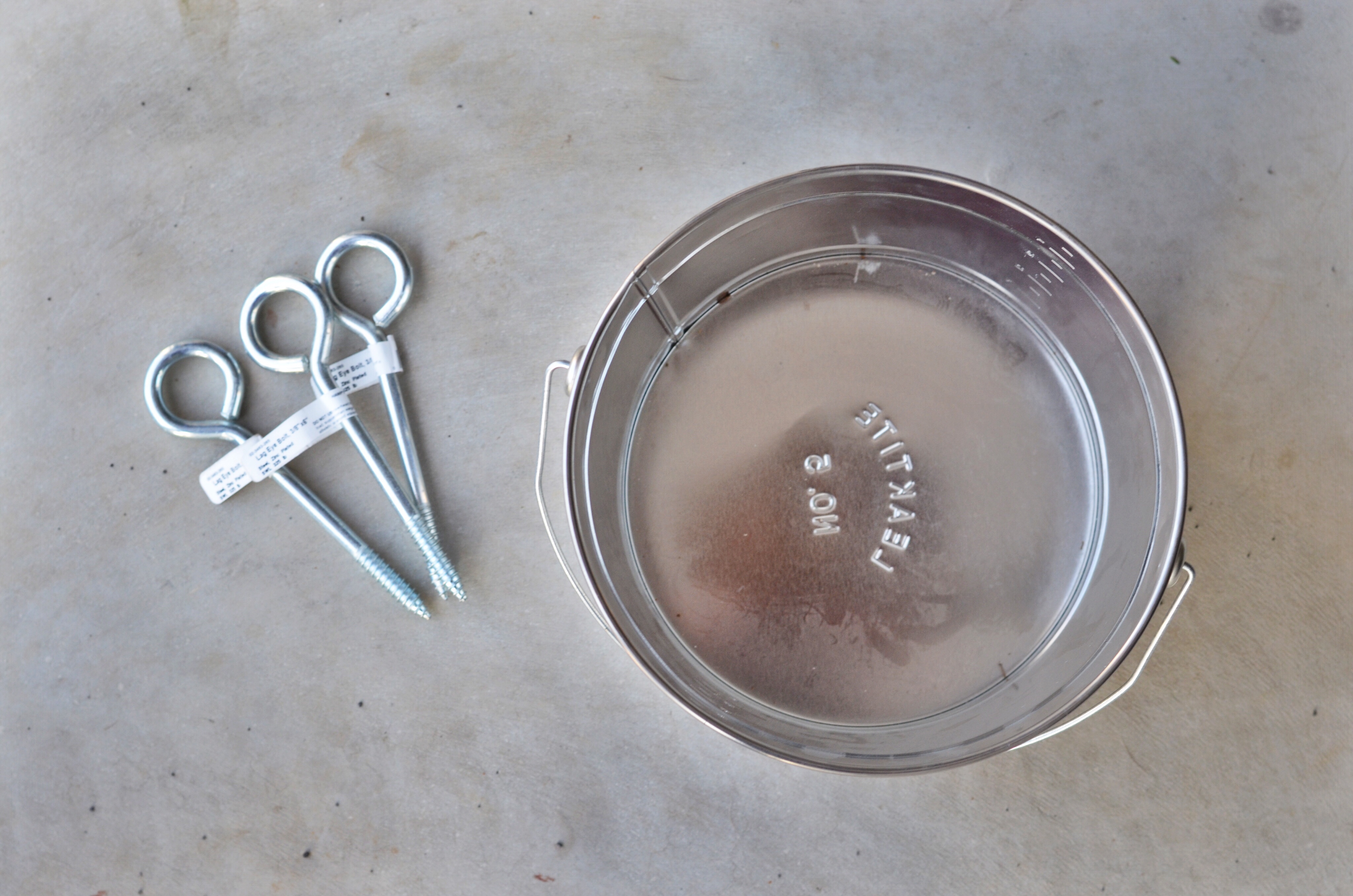 What you'll need for the D.I.Y. tree stand:
3 "screw eyes" – we got 1/4 inch
1 aluminum bucket
sand bags for weight
drill
This impromptu project actually turned out a lot better than we were hoping and was super easy to pull off!
Measure out the height of where you should drill the holes for your eye screws. You can base this off of the tree you have or cut the tree down to meet the sizing you prefer.
Drill the holes – be careful of the aluminum after you drill, it will be sharp.
Place the screws through the holes, position the tree and then screw the hooks into the trunk to stabilize and straighten.
Place in your living room, add some sandbags for weight.
Add water.
Decorate.
Enjoy!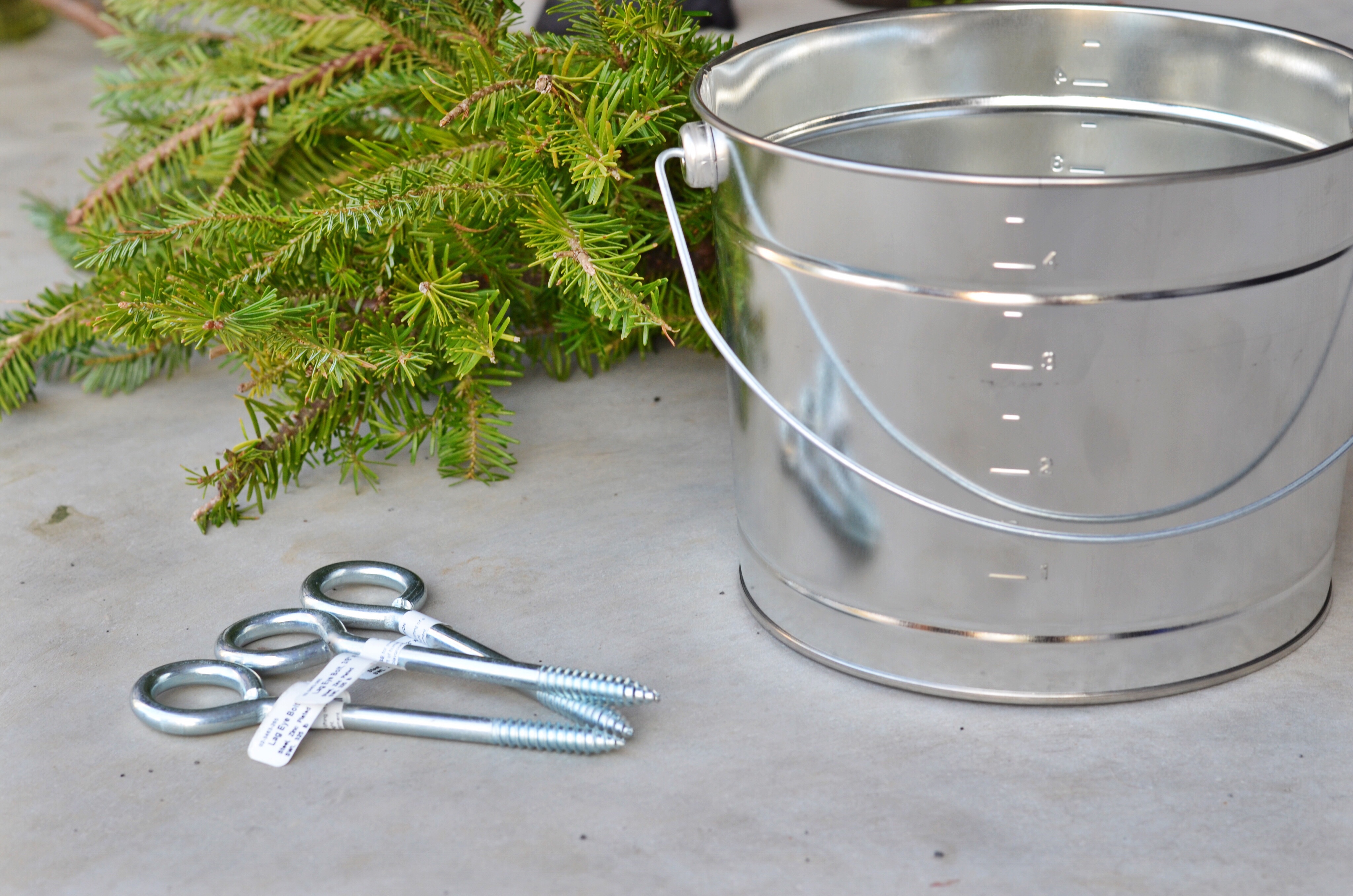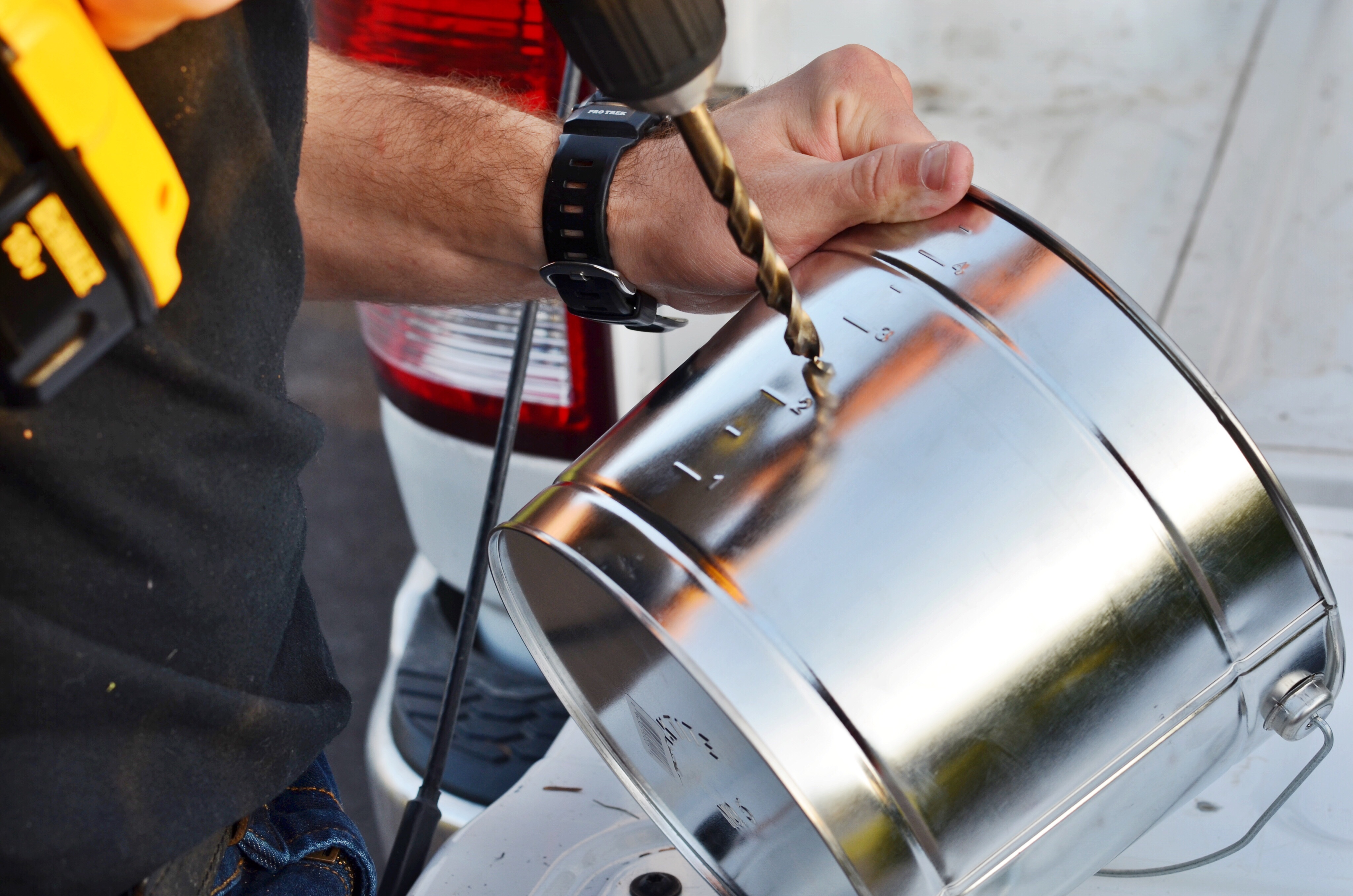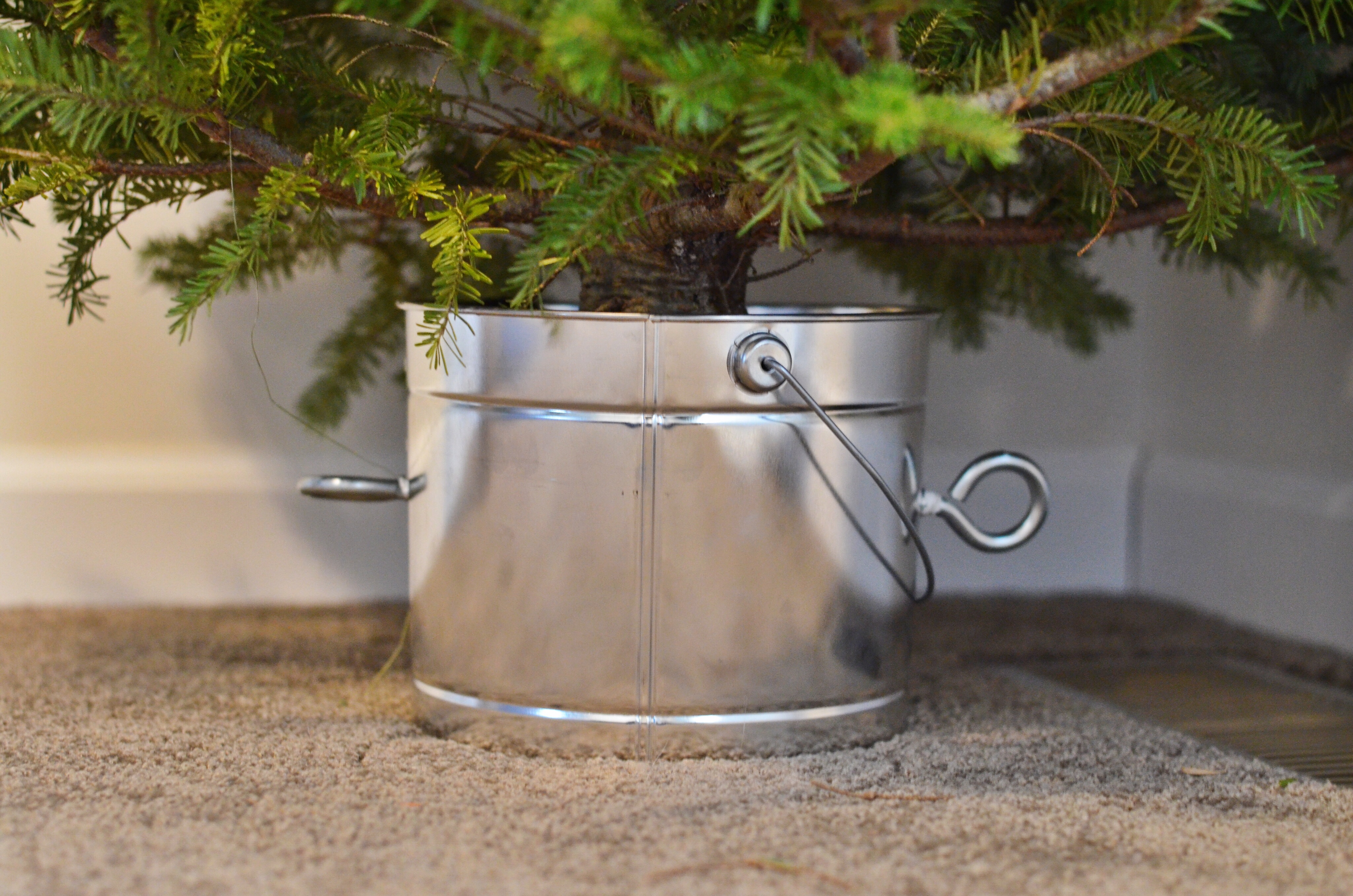 The finished product – all I had to do was add a tree skirt! The style of the bucket ended up really complimenting the style of our home currently so it was a great soution!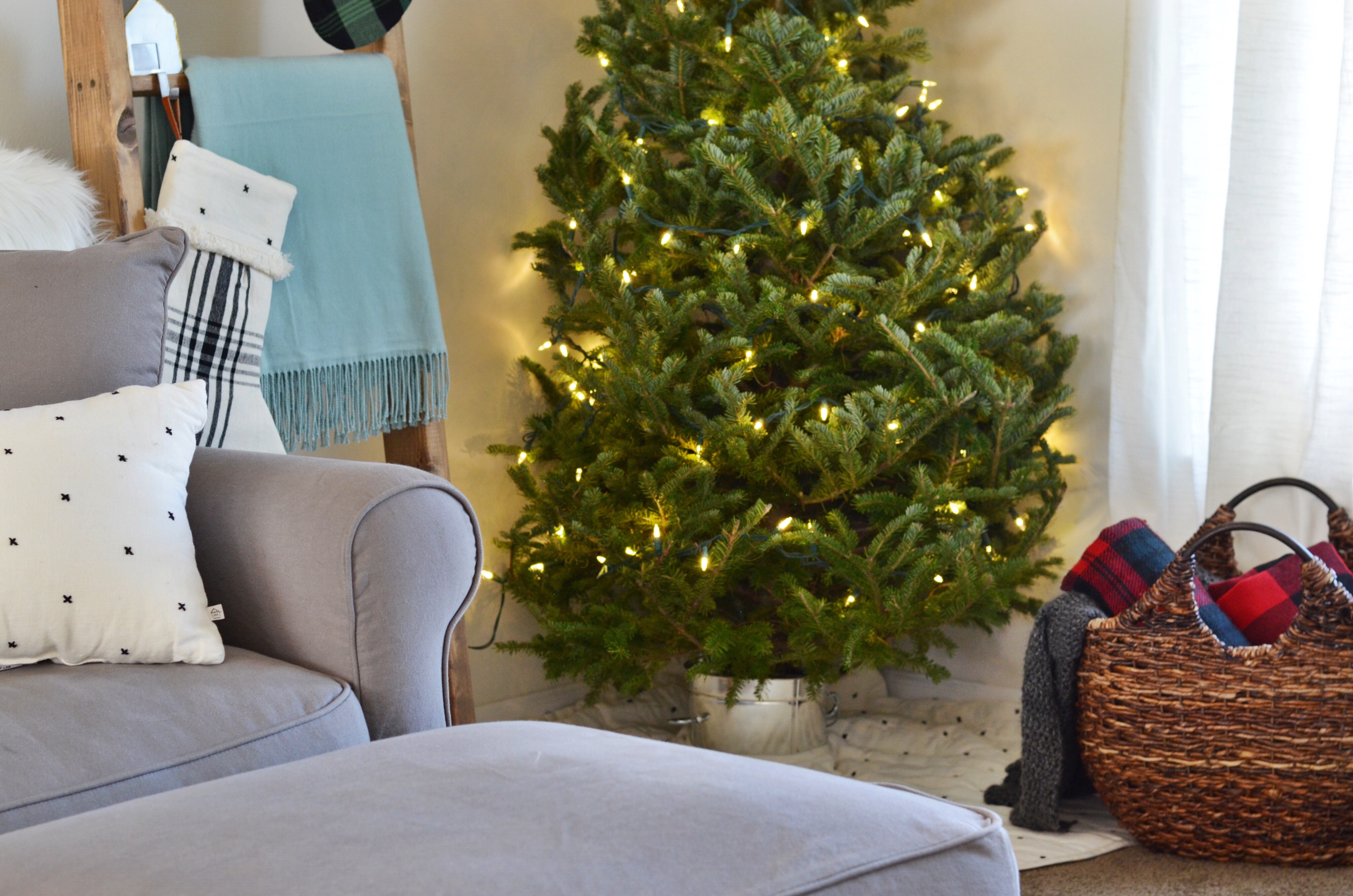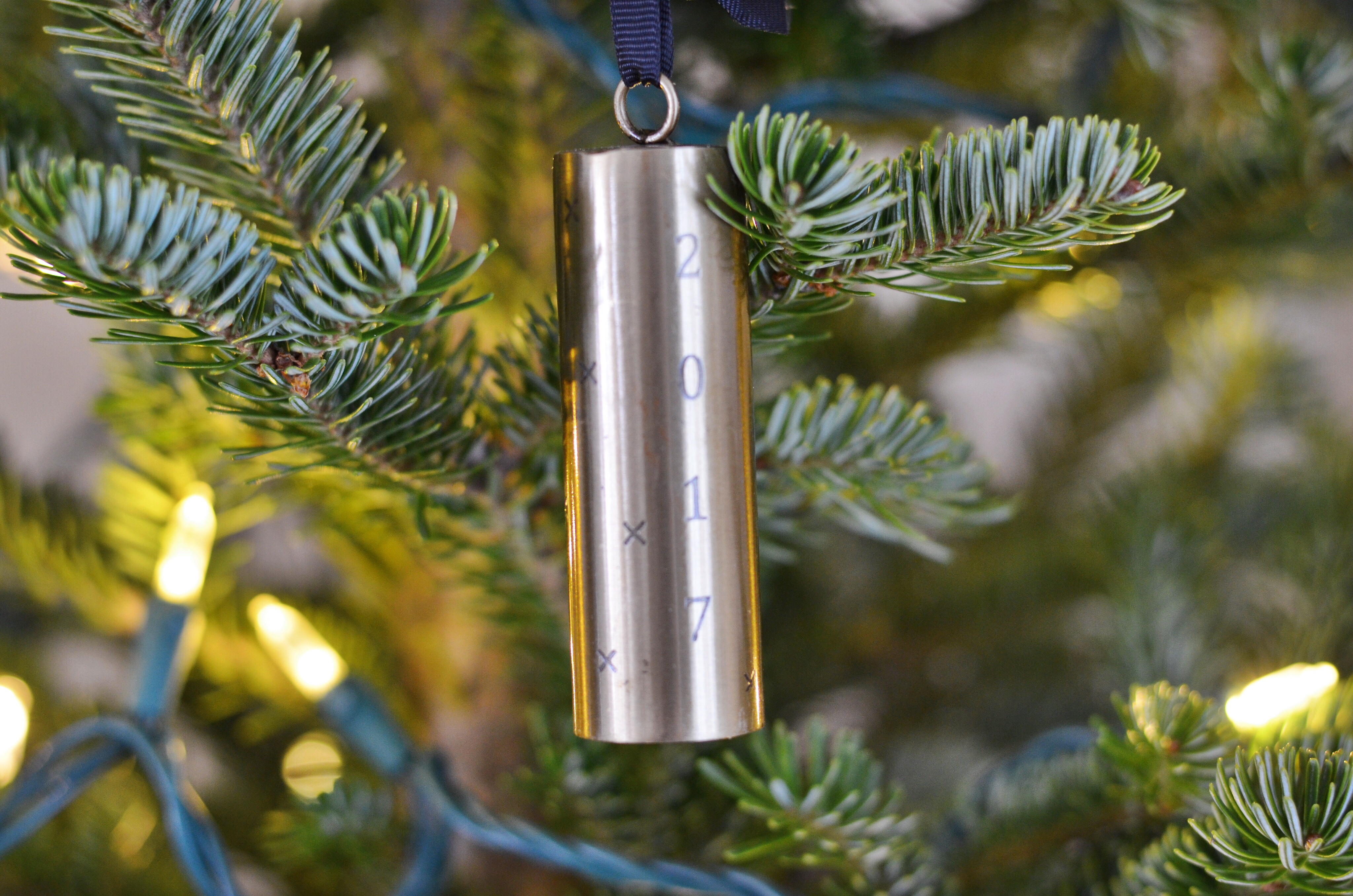 For tree decor, we opted not to buy ornaments this year, and to stick with warm white lights, a gorgeous star, and one new ornament that says "2017".  I found this one at Target in the Hearth & Hand collection and thought it was so perfect given that we moved into our first place together in 2017.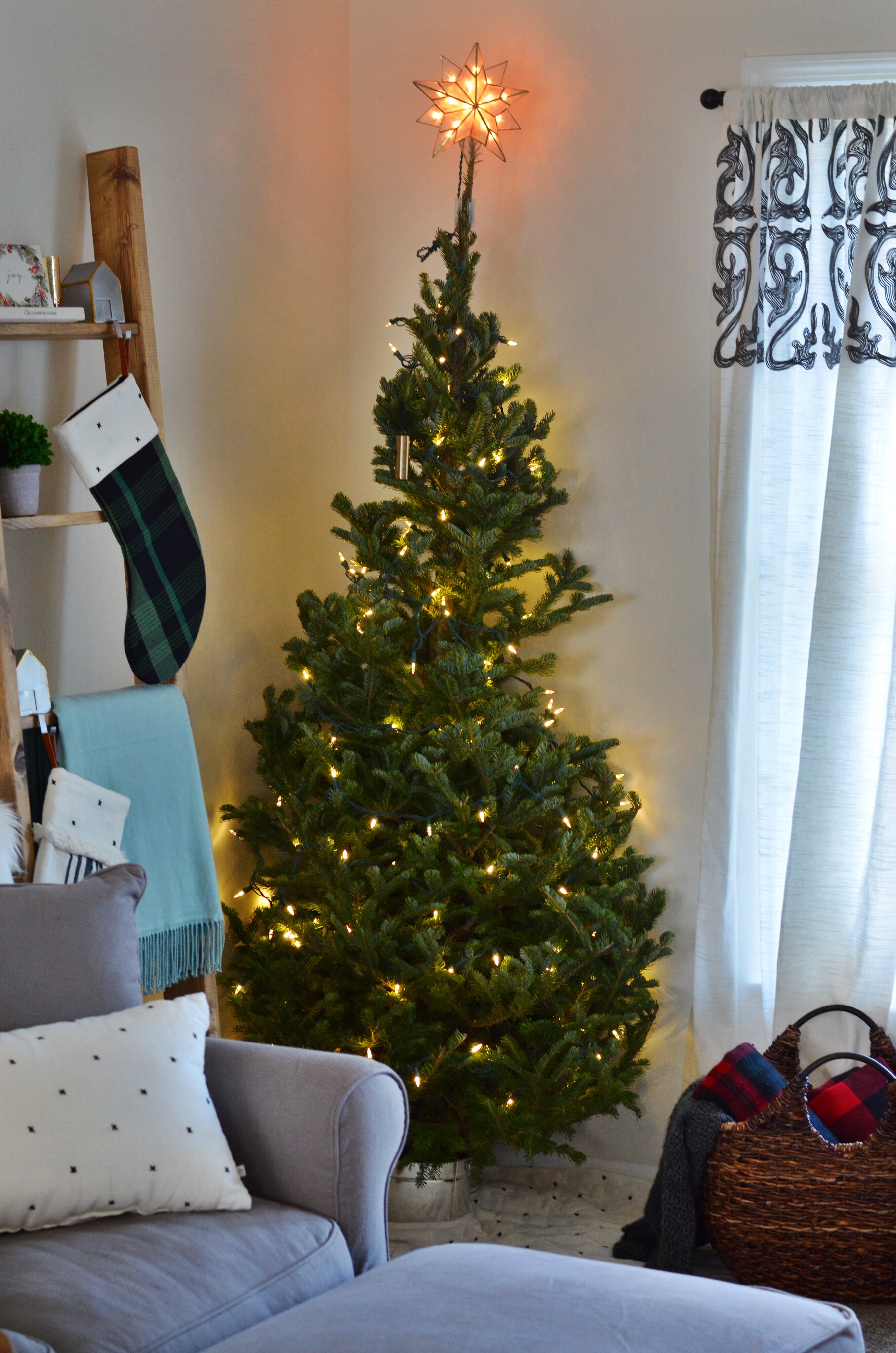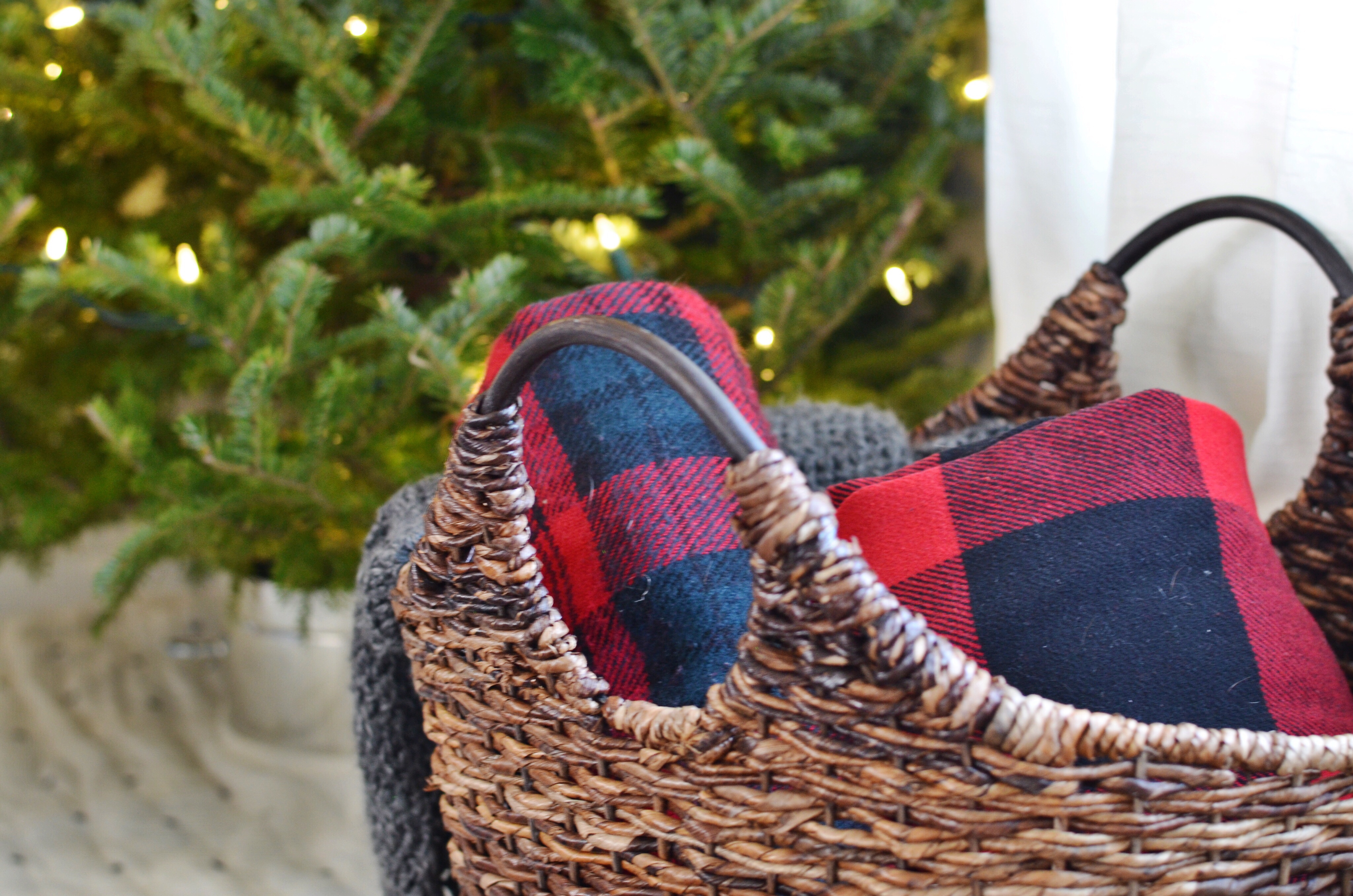 I love to be cozy, so a basket full blankets was another perfect way to add a warm, cozy, holiday feel without breaking the bank. I rolled up some big red, white, and grey blankets that we had and placed the basket close to the tree.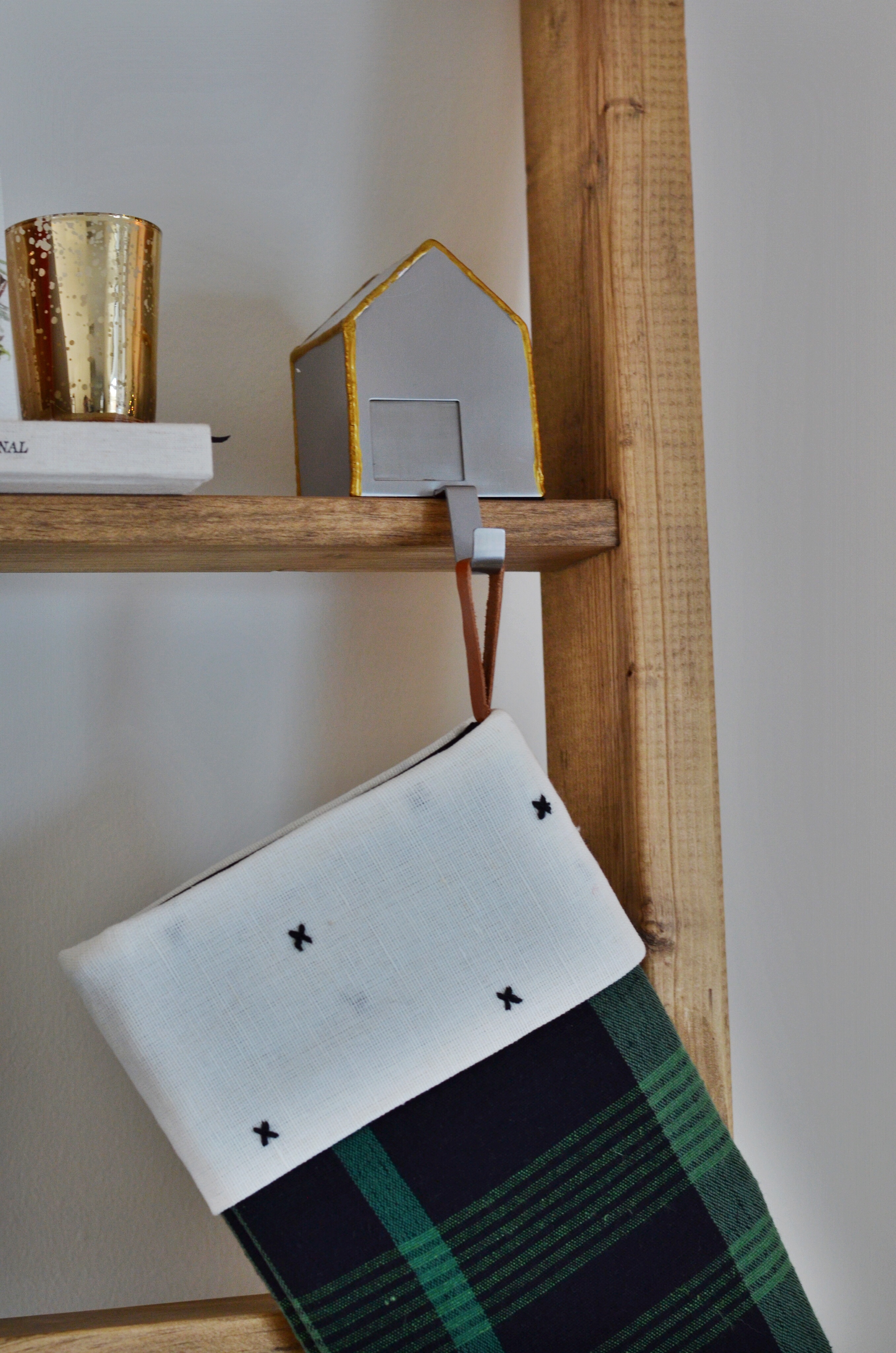 These cute, little stocking holders have to be one of my favourite finds! I picked up two of them from the Hearth & Hand line at Target, along with two stockings that matched our tree skirt in alternating colours.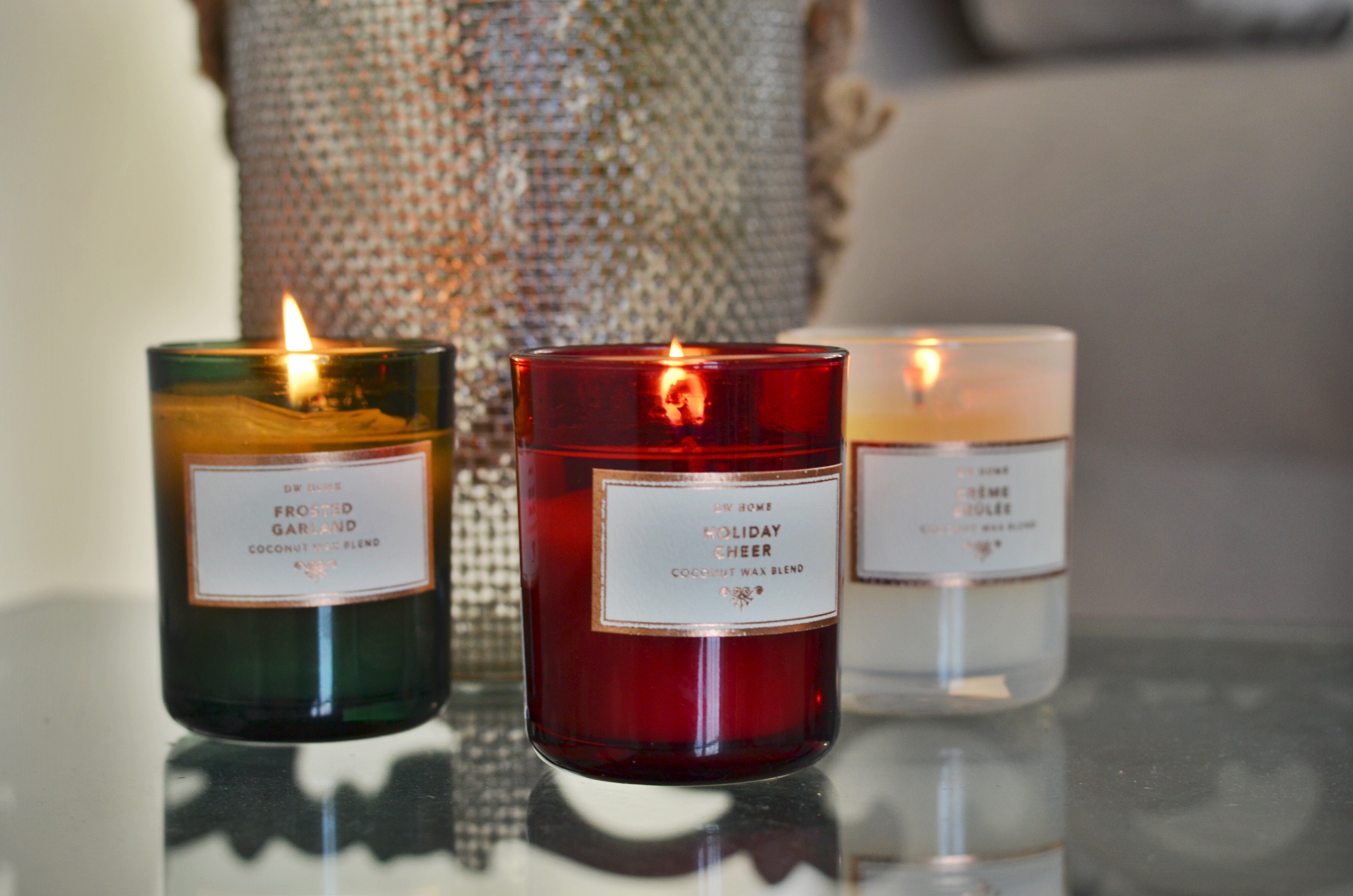 There is something about Christmas candles that make me SO happy. My boyfriend knows this is the way to my heart and bought me a few new ones this year from the PX. These three are all from Winners (or to my American readers – TJ Maxx). I absolutely loved all three of them, my fav being the creme brule scent – yum!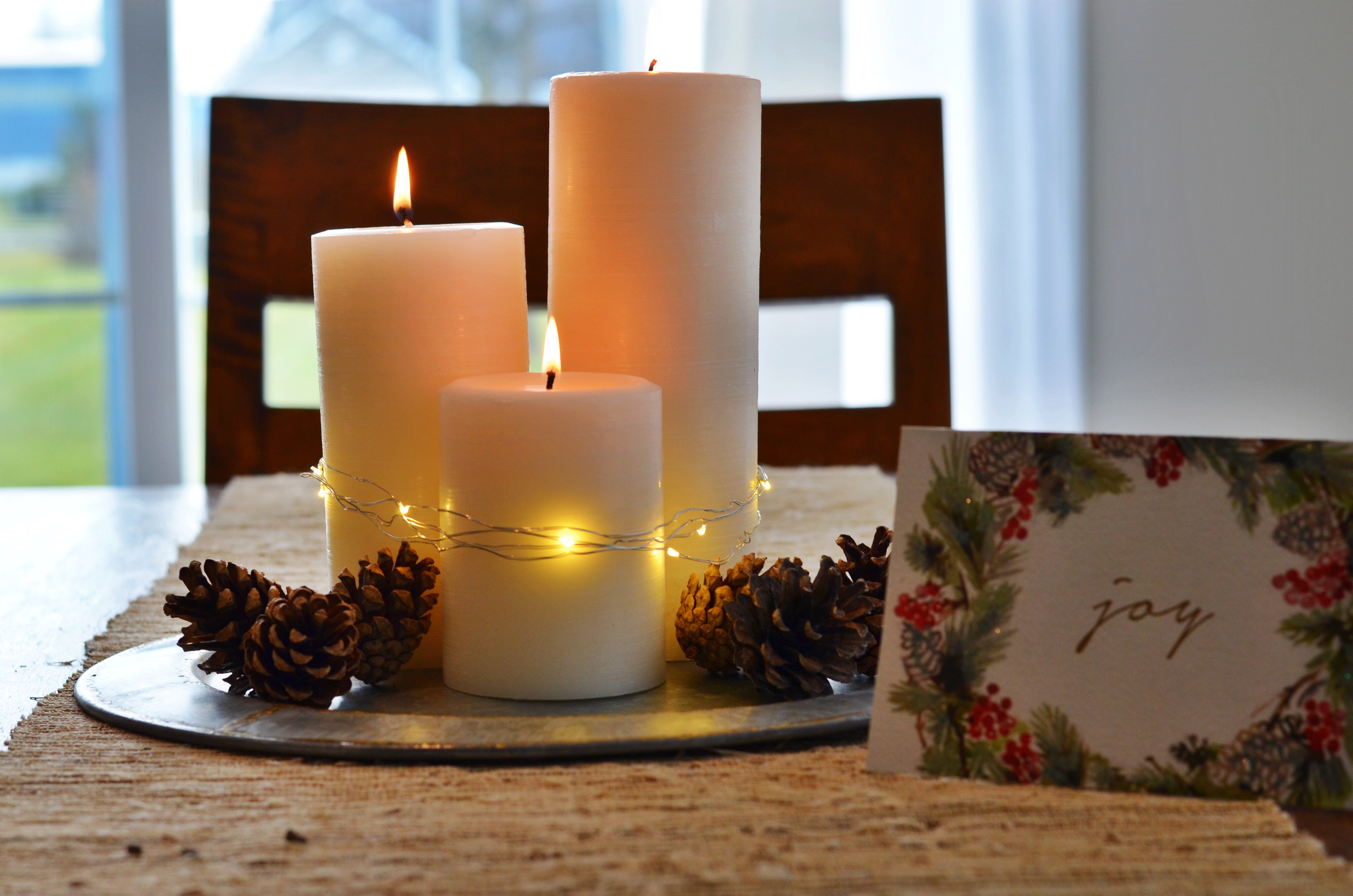 Next, I created a cute little centrepiece on the kitchen table with some pinecones from the backyard, some tall white candles, twinkle lights, and this gorgeous platter, also from the Hearth and Hand line.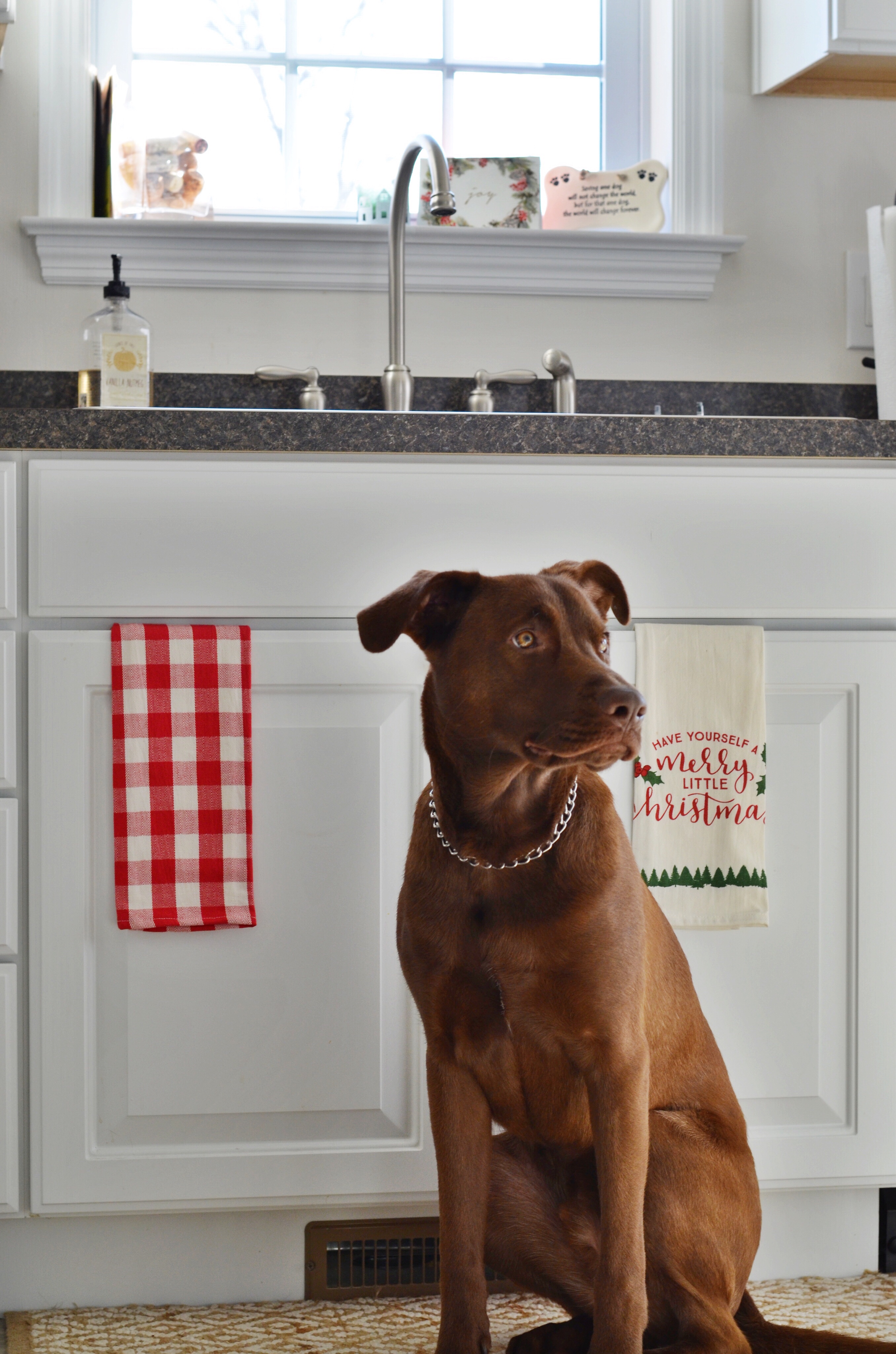 Lastly, these super cute tea towels were from the Target dollar section – such a score! I also found great ones around Thanksgiving!
And, of course our pup Gunner also had to be involved in all of the festivities, following us around as we drank some wine, popped dinner in the oven, and got to decorating!
Thank you for reading friends – wishing you all a very Merry Christmas and a Happy and Healthy New Year!

Decor Details: Tree Skirt (Hearth & Hand), Pillow (Hearth & Hand), Stockings (Hearth & Hand), Stocking Holders (Hearth & Hand), Star Tree Topper (Wondershop), 2017 Ornament (Hearth & Hand)